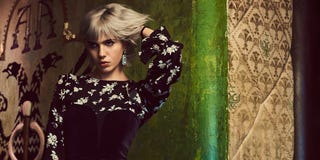 With fall in full swing, you're likely looking forward to switching sartorial gears and giving a few of this season's top fashion trends a try. Here, stylist duo JAK (Jessica Loria and Kelly Williams) showcases ten of our favorites; two totally different ways to wear each. And whether your style sensibility leans uptown or down, these 100% Bloomingdale's exclusives can't be found anywhere else. Models (and real-life friends) Jaylin Carlson, seen to the left in above image, and Elizabeth Wood, show the respective polished and cool outfits you can wear all season.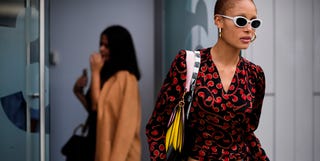 The Best Street Style From New York Fashion Week
Presented By
Bloomingdale's
Make it Downtown: A playful pastel color palette feels unexpected for fall. "And while this flouncy dress could be worn on its own, why not double down on the ruffle trend with a frill-trimmed turtleneck layered underneath?" asks Loria.
Keep it Uptown: There's no need to over-accessorize a sophisticated, crisp white blouse with an oversize sculptural overlay, especially when paired with a polished pair of high-waist tapered wool trousers. "Add a touch of whimsy with a pair of colored socks worn with contrasting high-heeled mule sandals," says Williams.
2  
Deconstructed Shirting


Make it Downtown: Two cut-away tops are better than one. "Both layered over an edgy leather mini skirt creates interesting, eye-catching dimension, while still feeling clean and minimalistic — thanks to the monochrome palette," says Loria.
Keep it Uptown: A simple black turtleneck, cropped trousers, a mini top handle bag, and beaded loafers temper a re-worked blouse with dramatic asymmetrical tailoring along the neckline. "Fishnet tights peeking out adds a touch of fun, yet subdued, flair," says Williams.
3 
Cozy Knits
Make it Downtown: "The plush, oversize cardigan with cushy fur detailing on the sleeves is the star here," says Loria. A soft, body-skimming silk dress and a pair of chunky boots is a perfect pairing that doesn't try to compete (in a good way).
Keep it Uptown: "Resist the urge to style these cropped wide-leg sweater pants in a casual, comfortable way, and opt for a dressed up, slightly romantic look instead," suggests Williams. A silk camisole slipped over a tucked-in turtleneck, paired with jacquard booties makes it all feel very chic and pulled together.
4
One Shoulder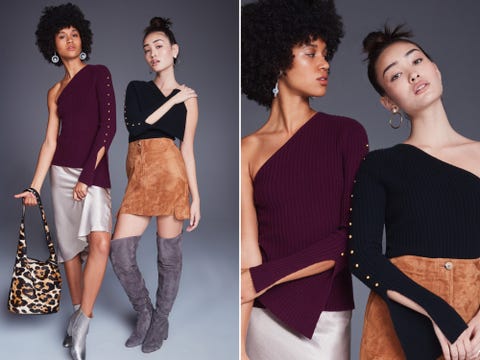 Make it Downtown: "It doesn't take much to make this open-shouldered knit look good," says Loria. A suede mini-skirt paired with over-the-knee boots gives it a seasonally appropriate feel, and a pair of gold hoop earrings add a clean, cool-girl finish.
Keep it Uptown: "The rich eggplant color of this shoulder-baring knit feels so elegant and regal," says Williams. "Adding a silky, iridescent knee-length skirt and metallic ankle booties to the mix keeps it all in the same vein."
5
Punk-y Plaid
Make it Downtown: The simplest way to make plaid feel fresh is to masterfully mix it with other prints and fabrics. Case in point: classic Breton stripes and glen plaid on top, with an 80s-inspired vinyl mini skirt, sheer tights, and studded pumps on the bottom. "All of the contrasting styles complement each other," says Loria.
Keep it Uptown: "A traditional windowpane checkered pattern on top styled with a colorful tartan trouser is the chicest way to pull off the print-on-print look," says Williams. Offset it with a cropped leather jacket, a top-handle backpack, and metallic slip-on slide.
6
Shades of Wine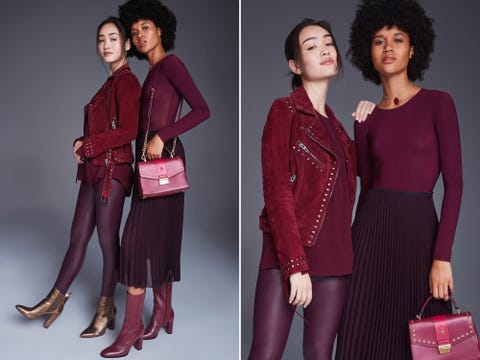 Make it Downtown: "When you're used to seeing studded moto jackets and liquid leggings in an inky black, seeing the edgy look worn in hues like burgundy and bordeaux is a welcomed change," says Loria. To break up the monotony of a monochrome look, step out in a dark metallic boot.
Keep it Uptown: A bodysuit worn with a pleated midi skirt is a classic combination that alwaysworks. "Monochrome dressing always looks gorgeous (not to mention intentional) when the lighter shade is on the top, and the darker tone on the bottom," adds Williams.
7
Lush Velvet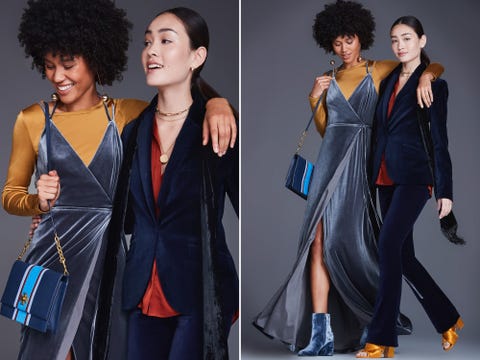 Make it Downtown: Give a menswear-inspired velvet suit a modern, feminine twist. "Pairing it with a silk blouse, dainty gold jewelry, a fringed velvet scarf, and a pair of vibrant mules ensures this ensemble doesn't look too retro or too corporate," says Loria.
Keep it Uptown: "A sumptuous, floor-sweeping, thigh-baring number makes a statement all on its own," says Williams. Layer it over a simple long-sleeved top that doesn't take away too much attention — same goes for the similarly-toned ankle boots.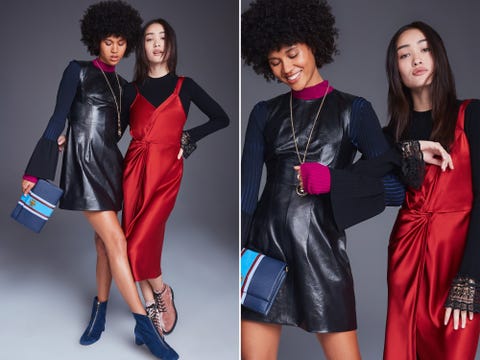 Make it Downtown: We'll never tire of the grungy nineties look. "An exaggerated lace sleeve paired with a slinky slip dress is reminiscent enough," says Loria. "But, the addition of velvet combat boots takes the throwback look to a totally different level."
Keep it Uptown: "A leather jumper mini dress layered over a knit with a dramatic bell sleeve is a tried-and-true combination," says Williams. Take it one step further and tastefully punch it up a notch with a brightly colored turtleneck peeking out above the neck, and beneath the wrist.
9
Cherry Red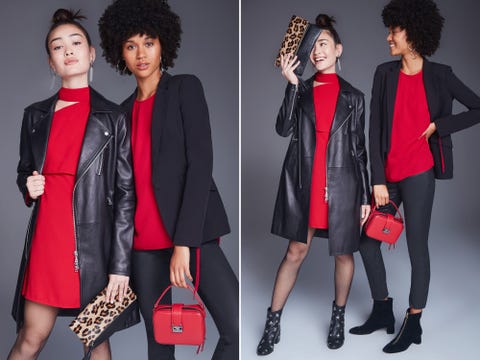 Make it Downtown: "Head-to-toe red looks great on the runway, but in real life, it can feel quite intimidating," says Loria. "However, a candy apple-colored party dress turns heads just the same when paired with a slick, longline leather topper, fishnet tights, star-embellished booties, fringed earrings, and a leopard clutch."
Keep it Uptown: "Simple and classic can make a confident style statement as well," says Williams. "A vibrant red blouse feels equally as playful as it is professional when styled with a black tailored blazer, waxed skinny denim, and a zip-front bootie."
10
Vintage Florals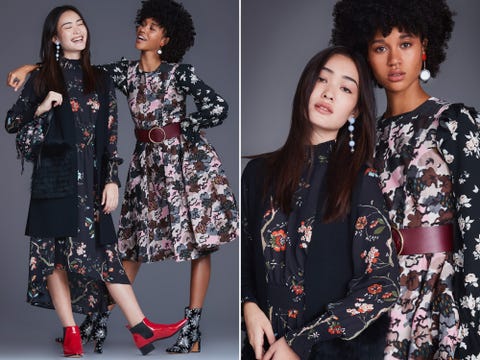 Make it Downtown: "A dark palette makes 'granny glam' floral prints appropriate for fall," says Loria. In lieu of a jacket, break up the bold motif with a long streamline vest — bonus points if it's a knit with fur detailing. "The mixture of textures is what makes this look feel effortlessly cool," she says.
Keep it Uptown: Layering is key for the fall season, says Williams, and a frilly blouse underneath a cinched full-skirted dress works for the office, or a night out. "There's no better way to pull off head-to-toe florals than mixing same, same, but different prints in a similar color palette," she adds.
Source: www.elle.com